Accéder à la version française
Your company has deployed a DAM (Digital Asset Management) to make it easier for the Communications or Marketing team to handle photos and videos. Well done! These two departments will gain time in editing, publishing and adapting photos and videos to any communication action or campaign. Campaigns will be easier to prepare, and therefore more relevant.
Now, what about all other departments in your company? What benefit do they get from your DAM?
Here are a few ideas to get more benefit from your DAM today, by ensuring every employee can use photos and videos.
1 – Share photos and videos across the whole company
Providing access to your DAM for the entire company can require a huge budget. Imagine this is a data visualization solution: benefits are clear for Controlling teams, but you will not invest in company-wide data visualization licenses when spreadsheet-based charts do 99% of the job for anyone else! This is the same for DAMs: benefits for Marketing and Communications are clear because managing and modifying images is part of their core processes. But as of today, benefits are less obvious for other functions.
An option is to ensure that part of the content of your DAM is also available in a media hub open to every employee. A media hub like WizyVision costs far less than a DAM because it does not include the complex, specific features needed by Com & Marketing. Still, people will have the possibility to reuse photos & videos – validated by Communications – for internal and external documentation.
They will also be able to supply new media from their daily work.
2 – Enable mobile sourcing
Everyone has a smartphone today. And one of the killer features in smartphones is the camera because people love taking pictures and making videos.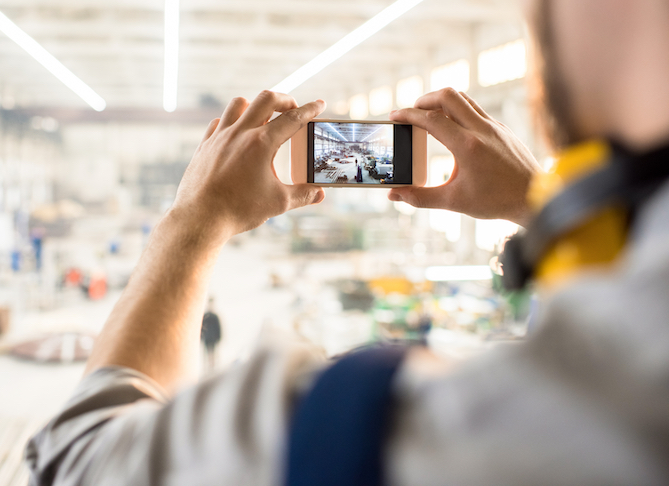 This means that anyone among your employees can source content with a media hub like WizyVision. It will reduce costs, since you do not always need a professional photographer for shooting. It will also save time for many because it will make much more content available to many more people. It is difficult to know what kind of images people need to do their job, so why not let them supply what they actually need? Part of the solution is by taking pictures on a smartphone.
3 – Let use cases and benefits arise from user experience
With WizyVision MediaHub available to any employee, they will have the opportunity to share images coming from operations. This can be about company buildings, stores, warehouses, plants or workshops, machines, products, exhibitions, training sessions or any work-related activity you could imagine:
Some of these on-field sourced media will one day be included in your DAM and become "official" company photos or videos
Some will be more accurate than DAM content for sharing with customers and partners
Some will allow experts to discuss a specific product or process issue or improvement
Some could be shared on your enterprise social network or intranet
Some will enrich your external documentation and internal presentations.
With more people working remotely or from home, choose a Cloud-based media hub so that it is accessible with a browser, on any device, from anywhere, at any time.
Regarding benefits, IDC data shows that knowledge workers spend about 2.5 hours per day searching for information. That is 30% of an average workday. Part of this huge amount of time is spent searching for pictures of products, screenshots of your business apps, illustrations for presentations to customers.
You never know exactly what people need to perform their job. But what you can do to increase performance is to make sure every employee has access to company data, documents… and media.
Reminder: until July 31st 2020, WizyVision is free to encourage remote access during COVID-19 confinement. Contact us
---

---
Version Française
Votre société a déployé un DAM (Digital Asset Management) pour faciliter la gestion des photos et vidéos pour la Communication et le Marketing ? Bravo ! Ces équipes vont gagner du temps dans l'édition, la publication et la retouche d'images dans le cadre de leurs campagnes. Celles-ci seront plus rapides à préparer, donc plus pertinentes.
Et que faire pour les autres fonctions de l'entreprise ? Quels sont les bénéfices qu'elles vont retirer de votre DAM ?
Voici quelques idées pour tirer un meilleur parti de votre DAM dès aujourd'hui, en s'assurant que chacun des employés pourra utiliser les photos et vidéos.
1 – Partager les photos et vidéos dans l'ensemble de l'entreprise
Il peut être très coûteux de donner accès à votre DAM à l'ensemble du personnel. Imaginez qu'il s'agisse d'une solution de data visualization : le Contrôle de gestion va en bénéficier et gagner du temps, mais vous ne voudrez pas investir dans des licences pour tous les salariés alors que les graphiques des feuilles de calcul répondent à 99% des besoins ! Il en est de même pour votre DAM : le Marketing et la Communication gagneront du temps parce que l'édition d'images fair partie de leurs processus métiers. Mais pour les autres, les gains seront moins évidents au démarrage.
Une solution est de proposer l'accès à tout ou partie du contenu de votre DAM via une médiathèque ouverte à tous les collaborateurs. Une solution comme WizyVision coûte bien moins cher qu'un DAM puisqu'elle n'inclut pas les fonctionnalités complexes d'édition d'images utilisées par la Com et le Marketing. En revanche, elle offre à chacun la possibilité d'utiliser des photos et vidéos (validées par la Communication) dans des supports internes ou externes.
Chacun sera également en mesure de fournir de nouveaux médias utiles dans son travail quotidien.
2 – Alimenter depuis les mobiles
Aujourd'hui, tout le monde a un smartphone. Une de leurs fonctions-clés est l'appareil photo, et chacun de nous adore prendre des photos et faire des vidéos.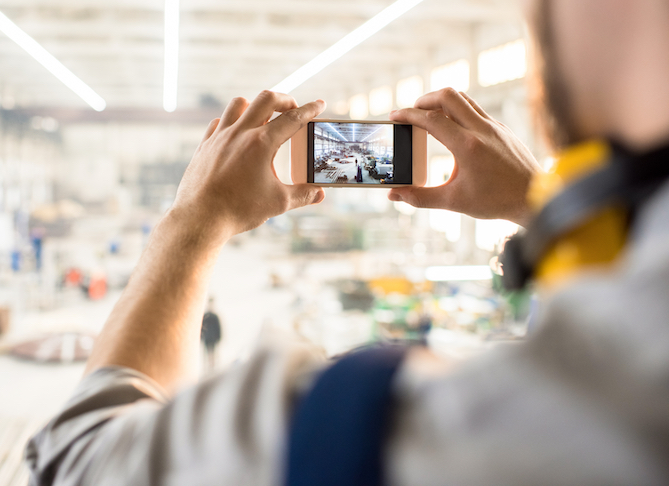 Concrètement, cela permet à n'importe quel collaborateur d'alimenter une médiathèque comme WizyVision. Cela permettra de réduire certains coûts, parce qu'il n'est pas toujours nécessaire de faire appel à un photographe professionnel pour une séance photo. De même, vous constaterez des gains de temps parce que les contenus disponibles seront beaucoup plus nombreux. Comme il est difficile de dire a priori de quelles images les gens peuvent avoir besoin pour travailler, pourquoi ne pas les laisser créer ces contenus ? Grâce aux smartphones, une grande partie du problème sera résolu.
3 – Laisser les cas d'usage émerger de l'expérience terrain
Avec une solution comme WizyVision MediaHub, n'importe quel collaborateur pourra partager des images venant du terrain. Cela pourra être des photos ou vidéos de bâtiments, d'entrepots, d'usines ou ateliers, de machines, de produits, de salons, de formations ou toute autre activité liée au travail quotidien :
Certaines de ces images alimenteront un jour votre DAM et deviendront des images "officielles" de l'entreprise
Certaines seront plus précises que le fonds disponible dans votre DAM pour travailler avec vos clients et partenaires
Certaines permettront aux experts de réfléchir à une amélioration de produit ou process
Certaines pourront être partagées sur votre réseau social d'entreprise ou intranet
Certaines enrichiront votre documentation externe ou vos présentations internes.
Le nombre de travailleurs à distance augmentant fortement, une médiathèque basée dans le Cloud sera plus facile d'accès : depuis n'importe quel navigateur, sur n'importe quell appareil, n'importe où, n'importe quand.
Quels sont les bénéfices liés aux images ? Une étude IDC montre que les knowledge workers passent environ 2,5h par jour à rechercher de l'information. Soit 30% d'une journée de travail moyenne. Une part importante de ce temps est consacrée à la recherche d'images de produits, de copies d'écran de vos applications métiers, d'illustrations pour des présentations à vos clients, etc.
On ne peut jamais savoir de manière exhaustive de quoi les gens ont besoin pour travailler. Mais pour améliorer la performance, il est certain que chaque employé de l'entreprise doit facilement accéder aux données, documents et… médias.
Rappel : jusqu'au 31 juillet 2020, WizyVision est gratuit pour encourager le travail à distance dans le cadre du confinement lié au COVID-19. Contactez-nous