Accéder à la version française
When using WizyVision as your company Digital Asset Management, you may need to share other types of files alongside photos & videos. Presentations, spreadsheets, documents, artwork, design… All these file types can be useful, gathered in a Content Hub.
What is a Content Hub exactly? Here are 3 use cases to better understand its benefits.
1 – Collect resources for a project
Are you starting a project such as redesigning your website? To do so, you will collect photos and videos of your teams, products, installations, as well as different logos (company, brands, references…). When you are a savvy WizyVision customer, all this is already available in your WizyVision Digital Asset Center! But you will probably also have to collect:
Documents: supplier contract template, latest specifications…
Presentations: visual guidelines, project kick-off template, presentation template…
Spreadsheets: translation of navigation menus in different languages…
Artwork: branded charts or diagrams that need to be adapted to web and mobile…
Usually, all these files would be sent to your supplier by email. Or through a shared drive. The thing is, every other employee in the company will do the same for other projects… Thus duplicating thousands of files, disseminated in plenty of tools or folders.
Instead, keep all these files in one single version and share it from WizyVision, giving the right access to the right person.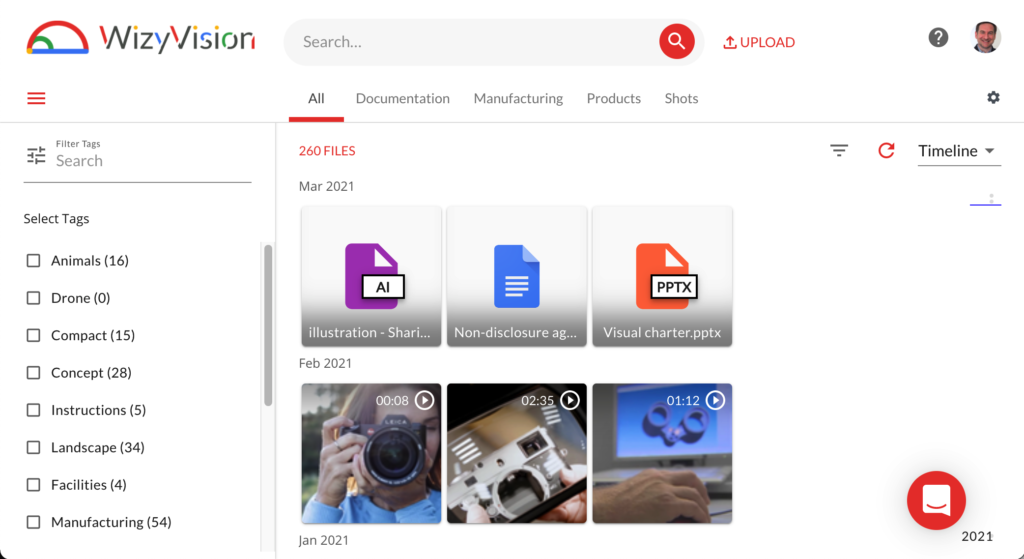 2 – Make templates easily available to everyone in your company
Think of all the files that any team, especially remote ones, need on a daily basis:
Document templates such as contracts, NDAs, letters…
Presentation templates
Spreadsheets such as budgets templates, checklists, forms…
Artwork to be translated in various languages, such as banners, stickers, flyers…
These are only a few examples. Any reference document is easier to find in an online Content Hub than in siloed shared drives, intranets or collaboration tools. Indeed, the Content Hub provides easy and customizable navigation, allowing access to files from different points of views. It also enables fine-tuning of access rights both for internal and external teams.
You want to improve productivity and keep your teams focused on what really matters? Spare their time by allowing them to find immediately all these files in a neat, organized and secure Content Hub.
3 – One place for reference documents, available anywhere
Since WizyVision comes with its mobile app, you can use the Digital Asset Center as a Content Hub, even for mobile work. Then users can get access to company documents easily, to download them on their mobile or tablet and share instantly. Anywhere.
Office files (such as O365 or Google Workspace), audio files, design files, ZIP archives, or any other file type: managing all file types enables WizyVision to comply further with the DAM 10 Core Characteristics.
WizyVision's Digital Asset Center manages everything digital. Make work easier across your organization.
---

---
Version Française
En utilisant WizyVision comme plate-forme Digital Asset Management (DAM), vous pourriez avoir besoin de partager d'autres types de fichiers en plus des photos et vidéos. Présentations, feuilles de calcul, documents, illustrations, design… Tous ces fichiers, regroupés dans un Content Hub, peuvent être utiles.
Qu'est-ce qu'un Content Hub ? Nous vous proposons 3 exemples pour comprendre ce qu'il peut vous apporter.
1 – Regrouper des ressources pour un projet
Vous démarrez un projet, comme par exemple la refonte de votre site web ? Vous allez probablement collector des photos et vidéos de vos équipes, produits, installations, ainsi que de nombreux logos (société, marques, références clients…). Si vous êtes déjà client avisé de WizyVision, tout ceci est déjà disponible dans votre Digital Asset Center ! Mais vous aurez également à regrouper :
des documents : modèle de contrat fournisseur, dernière version de votre cahier des charges…
des présentations : charte graphique, modèle de réunion de démarrage projet, modèle de présentation…
des feuilles de calcul : vos menus de navigation traduits en différentes langues…
des ressources visuelles : graphiques aux couleurs de votre marque, diagrammes à ajuster en version web et mobile…
Vous pourriez avoir le réflexe d'envoyer tous ces documents à votre fournisseur par mail. Ou au travers d'un dossier partagé. Mais tous les autres collaborateurs feront de même pour leurs projets, générant ainsi des milliers de doublons répartis dans une variété d'outils ou dossiers.
Faites plus simple : conservez une version de référence et partagez-la depuis WizyVision, en donnant le bon accès à la bonne personne.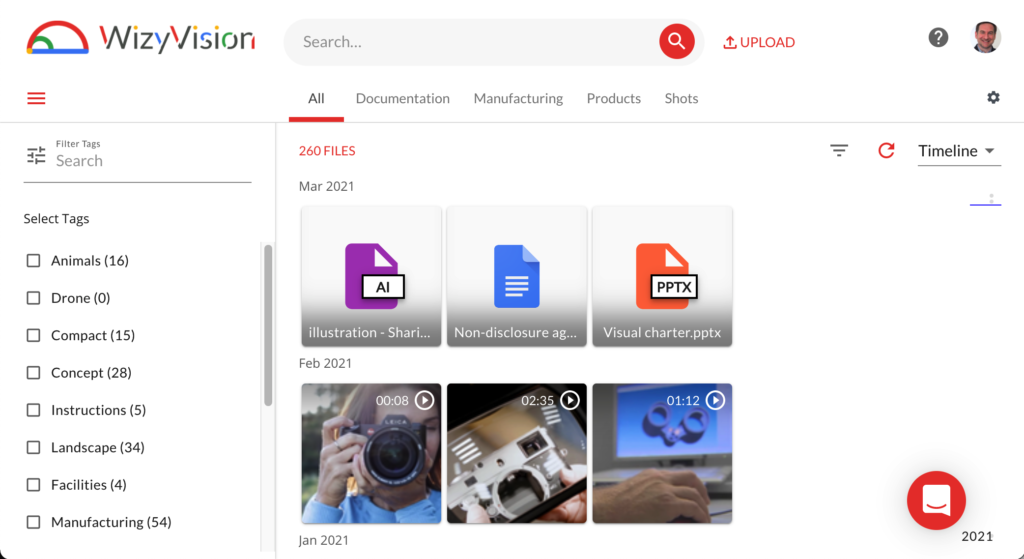 2 – Rendez vos modèles de documents accessibles de toute l'entreprise
Pensez à tous les fichiers que chaque équipe utilise de manière quotidienne :
Modèles de documents comme les contrats, accords de confidentialité, courriers…
Modèles de présentations
Feuilles de calcul telles que les modèles de budgets, check-lists, formulaires…
Tous les contenus créatifs et artistiques à décliner dans plusieurs langues : bannières, flyers, autocollants…
Ce ne sont que quelques exemples. Chaque document de référence est plus facile à trouver dans un Content Hub en ligne plutôt que dans des dossiers partagés, sites intranets ou outils collaboratifs organisés en silos. En effet, le Content Hub permet une navigation facile et adaptée aux besoins, en offrant différents accès aux contenus selon différents points de vue. Il offre également une gestion fine des droits d'accès pour les équipes internes et externes.
Vous souhaitez améliorer la productivité et aider vos équipes à se focaliser sur les tâches essentielles ? Epargnez leur temps en leur offrant la possibilité de trouver immédiatement tous les fichiers dans un Content Hub clair, organisé et sécurisé.
3 – Un espace pour les documents de référence. Partout
Parce que WizyVision dispose d'une appli mobile, le Digital Asset Center peut devenir un Content Hub même en mobilité. Ainsi, les utilisateurs accèderont facilement aux documents, pourront les télécharger sur leur mobile ou tablette et les partager instantanément. Partout.
Documents bureautiques (O365 ou Google Workspace), fichiers son, fichiers design, archives ZIP, ou quoi que ce soit d'autre : la possibilité de charger et partager tous types de fichiers renforce la conformité de WizyVision aux 10 caractéristiques-clés du DAM.
Le Digital Asset Center de WizyVision gère tous les contenus numériques. Facilitez le travail à l'ensemble de votre organisation.