Non-government organizations (NGOs) have been at the forefront of caring for different sectors of our society. They augment, are quick to take action, and oftentimes fill the gaps, where local assistance is bogged down in process and bureaucracy. Pushing forth the ideals of altruism, NGOs are often found providing assistance in natural disasters, nurturing poverty-stricken communities, raising awareness for wilderness conservation, or fighting for human rights violations across the globe.

The aim: harmony and sustainability for humanity and the world we live in. The journey, however, requires monumental efforts from volunteers, sponsors, organizers, and world leaders. NGO work requires raising awareness for its cause, fundraising, and proper documentation and reporting of its activities. Here we talk about how WizyVision Digital Asset Center (DAC) infuses technology into NGO work and how its stakeholders benefit from the platform.

This is an interesting use case since WizyVision recently partnered with SmartAID to track in real-time and ensure donors, partners to campaigns and missions have full visibility of when, where, and who the aid has reached.

SmartAID Profile and the challenges to NGO Work
SmartAID is a leading NGO that creates, adapts and/or funds technological solutions and programs designed specifically to solve humanitarian challenges. To achieve this, SmartAID collaborates with entrepreneurs, start-ups and manufacturers, the business community, impact investment community, local governments, donors and academics.

Up until late 2019, SmartAID would deploy its own volunteers on the ground to work directly with Partner NGOs and capture aid shipments in action. With the advent of COVID-19, this was no longer possible due to changing border and immigration requirements and safety concerns.

Despite leveraging mobility solutions, SmartAID quickly discovered that it wasn't enough to simply ask Partners and volunteers in the field to take pictures and send them through. With multiple projects occurring simultaneously in different countries, images were being sent via different media to different individuals, and scattered across multiple devices.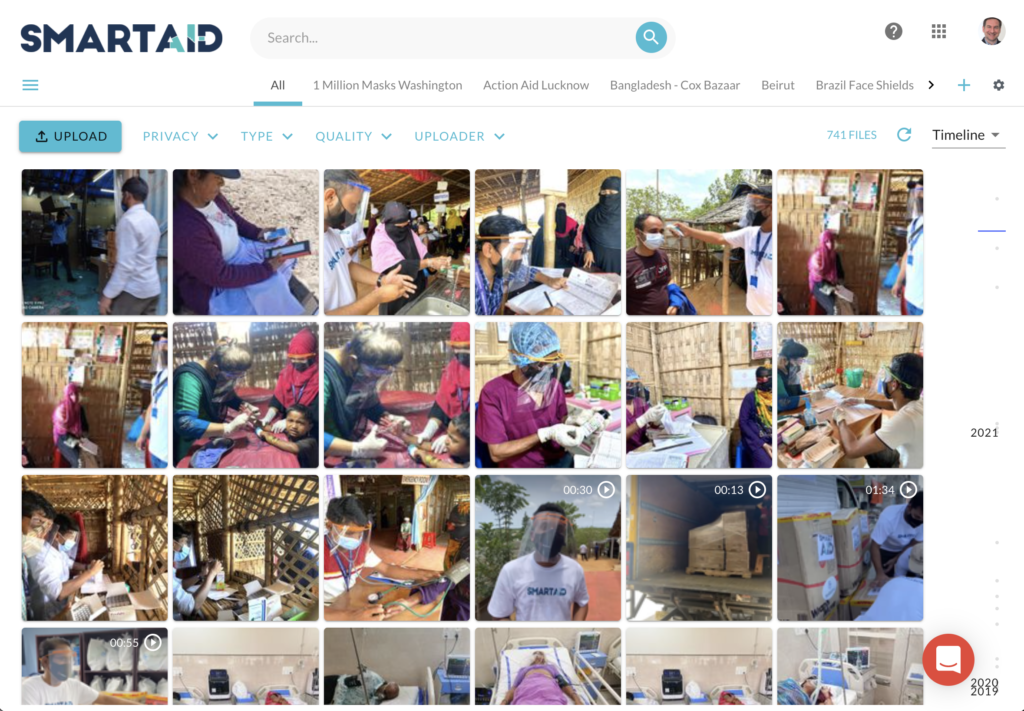 WizyVision DAC for organizing on-the-field photos and videos
WizyVision DAC is built on the Google Cloud Platform and Google's Vision API. It's designed to solve the pains of Digital Asset Management and in this case, help SmartAID hurdle their challenges. WizyVision DAC comes in a powerful browser-based console and Frontline Worker App (available in both Apple App Store and Google Play Store) tandem. Sign up for a 30-day Free Trial here.

Using WizyVision DAC's intuitive console, the SmartAID administrator is able to pre-configure projects and missions. It's also easy to invite users who are on the frontline, at the location where aid is being delivered. The preconfiguration involves providing role based access along with enforced tagging. This provides multiple outcomes and improvements:
For SmartAID Volunteer/Partner/Frontline Worker
When a person on the frontline downloads the Frontline Worker App and logs in from an Android device, they can take and/or upload a photo, document or video to the DAC in just 1 click
The role and enforced tagging means that the photo is automatically sorted and categorized in the DAC on upload
The frontline worker does not need to worry about who to send items to or when or how. Depending on admin-set rules, workers can only see the pictures related to their role so there is no risk of mixing documents and photos from different countries and projects or having those photos tampered with
For SmartAID Management Team and Board
Leveraging a Google Cloud based solution like WizyVision, device storage is no longer needed and digital assets are secured in one place with user access controls in place for additional security. Administrator can set access rights so that SmartAID has full visibility of all projects and real time access to on-the-ground situations
Significant time saving as photos and documents are already sorted and very easy to search
Additional tags can be added
Location data contained in the photos provides the ability to visualize projects on a map and also evidence of time, date, location of aid delivered in addition to any image along with person responsible – many messaging platforms (such as WhatsApp) strips location and the metadata from the photos when sent
Management and Board have the ability to view all projects from their phone, choose and download assets to send via email or photos to post on social media, add tags and additional information to enhance data sets
For SmartAID Partners
Using additional Google Cloud tools such as Auto Machine Learning (ML), the SmartAID WizyVision DAC can be configured so that members of the press and key Partners (such as logistics companies who provided freight of aid free of charge), are able to access just those photos of aid in which their logo appear.

They can use these in their company reporting and CSR programs or specific photos that are required for use in a media article or story. Access is available via web or Frontline Worker App.
If you're an NGO looking for a solution in organizing, storing, and making on-the-field photos accessible to remote teams, set a demo here.