Digital sovereignty, digital frugality, digital divide… These topics were addressed by candidates for the French Presidency during the "Pitch" I attended on March 9, 2022. It was organized by a dozen professional organizations, including CIGREF and Systematic.
I realized that I had often covered the topics of digital sovereignty and digital frugality (links in French), but that I had not yet addressed the digital divide.
Listening to the candidates for the Presidency of the Republic, it was clear that the expression "digital divide" did not have the same meaning for everyone.
In this post I propose to analyze four different dimensions of the digital divide, hence the plural in the title:
Technical
Human
Financial
Organizational
What is the most important digital divide? It's probably not the one you're thinking of.
To find out, you'll have to read this post in its entirety.
The technical digital divide
A technical digital divide is the inability to access a digital service due to the lack of technical solutions.
In 2022, two of the brakes that existed in the early days of computing are gone.
Access objects. Until 2007, the dominant access object to computer applications was the personal computer, with a cost and complexity of use that strongly limited its distribution.
In this mythical video, Steve Jobs from Apple introduces the iPhone for the first time. If you have never watched it, you must do so. It is the most spectacular announcement of a digital innovation that has ever taken place.
Today, more than 6 billion people use a smartphone, which has become by far the most widely used digital access device in the world.
Servers and services. Thousands of professional and personal services are available, free of charge, from Internet giants such as Google or Facebook, but also from hundreds of national providers. More than five million mobile applications are available on Google Play and iOS.
Networks. The only remaining potential technical digital divide is the one related to networks. The situation is very different from one country to another. 100% of the people living in Monaco have access to 1Gb/s fiber optic cable networks and 5G mobile networks. This is not the case in Burkina Faso.
In France, white zones, without fixed or mobile network coverage, are being greatly reduced, as shown by the figures published by ARCEP in March 2022. In 4G, the four operators cover 99% of the population and between 90% and 94% of the territory. There are still between 6% and 10% of areas not covered.
In this document published by ARCEP in January 2022, operators commit to a mobile coverage rate of 97.7% of the population in January 2027.
There are solutions that allow us to say that it is possible to have access to high and very high speeds on 100% of the French territory, immediately.
How? The answer comes from the sky, from satellites. Several solutions are available in Europe, including Tooway and Starlink from SpaceX.
Tooway: a service based on a geostationary Eutelsat satellite with a maximum downstream speed of 22 Mb/s and a maximum upstream speed of 6 Mb/s. A professional version, Tooway Business, allows higher speeds, 50 Mb/s downlink and 10 Mb/s uplink.
There is a lot of talk at the moment about Starlink, the network of low altitude satellites launched by Elon Musk's SpaceX. After the invasion of Ukraine by the dictator Putin, and at the request of its President, Zelensky, Elon Musk delivered in a few days a container with antennas to connect to the Starlink network. Starlink allows the Ukrainian armies to have very high speed Internet access in any point of the territory.
As these Speedtest measurements show, Starlink delivers 103 Mb/s downlink and 41 Mb/s uplink, with a low latency of 18 ms. Starlink is available in France since mid-2021. This article (in French) shows that it takes no more than 30 minutes to get up and running.
Summary. In France, the technical digital divide no longer exists in 2022.
Traditional coverage, fiber optics, 4G and 5G cover more than 90% of the population. While waiting for these services to be deployed in the existing white zones, satellite solutions are immediately operational for those who need them, whether for professional or personal use.
The human digital divide
In France, as in every country in the world, there are people who are not able or do not want to use digital services.
Every year, CREDOC, ARCEP and the Ministry of Economy and Finance publish the Digital Barometer, a comprehensive document on digital usage in France.
You can download on this page the 2021 version of this report, of 350 pages.
I extracted the following graph which shows the proportions of Internet users according to their age and degree.
Not surprisingly, we find that these two variables are predictors of Internet use.
In terms of age, it is encouraging to note that the level of use remains reasonably stable between the ages of 12 and 69. It is only after the age of 70 that it drops off.
Education level is an even stronger marker of Internet usage. In 2020, non-graduates have a lower level of usage than those over 70.
It would appear that the COVID-19 pandemic has greatly accelerated the level of use among French men and women over the age of 70 and among the non-educated in 2020.
Initiatives are being taken to reduce this human digital divide. These initiatives are primarily based on simplifying tools and applications. "Senior citizens" tablets are offered by the La Poste Group or the company Facilotab.
There are also smartphones adapted to the expectations of seniors, with larger and simpler displays, like this Mobiho model marketed by Darty.
The human digital divide can be reduced, but it will not disappear.
Training, support and simpler tools are important to reduce this human digital divide. We can significantly reduce the percentage of people who are still digitally illiterate. Literacy and digital training can be reinforced, yes, but they will not work miracles.
A study published at the end of January 2022 estimates that there are still 7% of people in France who do not have a smartphone or Internet access. This is an encouraging figure: 93% of French people can access digital services.
Financial digital divide
In many countries, the costs of using digital solutions are out of reach for most people.
This analysis was made in 2020 on the costs of Internet access and MB transmitted in the main countries of the world. In this table, I have selected the cheapest, the most expensive and the data related to France.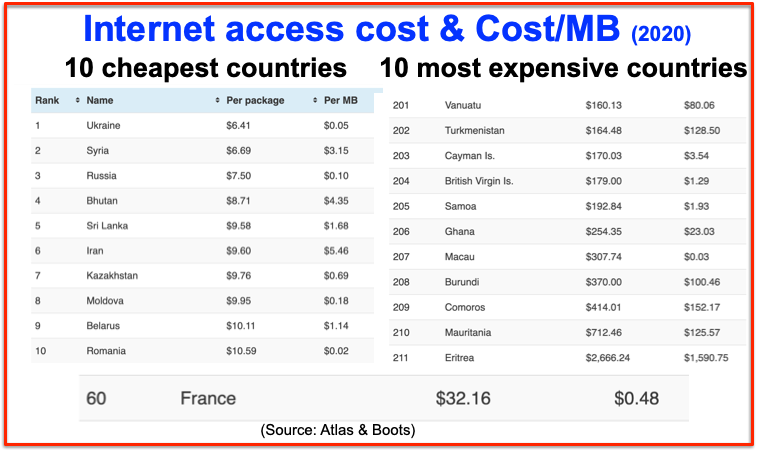 We will leave aside the aberrant case of Eritrea, one of the poorest countries on the planet and one of the five that voted against the UN resolution condemning the invasion of Ukraine.
What do these numbers tell us?
It is too often in the poorest countries that Internet access is the most expensive, such as Mauritania, Comoros or Burundi where the cost of transferring 1MB is over $100. Very "democratic" countries like Turkmenistan are also among the most expensive.
Among the countries with the cheapest digital usage are many Eastern European countries, such as Ukraine, Russia and Romania, where the MB costs less than $0.1.
France is in the average range of costs in developed countries, with the MB at $0.48.
Situation in France
In France, the costs related to digital use are reasonable and are no longer a major obstacle contributing to the digital divide.
ARCEP's study on mobile networks in the third quarter of 2021 shows that in France there is an equipment rate for mobile subscriptions close to 120%, or 1.2 subscriptions per person.
Clearly, anyone in France who wants to access digital services has the financial means to do so. It is possible to buy a good level smartphone like this Samsung A02s for less than 160 €. Nobody needs an iPhone 13 ProMax with 1TB at 1839 € to access the Internet!
Summary. In the majority of developed and democratic countries, there is no longer a real financial digital divide.
Unfortunately, it is in the poorest and least democratic countries, one often going with the other, that access to digital services is prohibitive. The political leaders of these countries do everything to deny their citizens access to the Internet.
Organizational digital divide
This fourth digital divide, nobody talks about it, nobody is aware of it. It is however, by far, the most important one, especially in developed countries like France.
This digital divide is present in the vast majority of businesses, large and small, public and private. Those who follow me on my blog are probably starting to understand what digital divide I am talking about:
The unacceptable gap between white collar workers' access to digital solutions and Front Line Workers
This digital divide is everywhere, in front of your eyes, and you don't see it, or pretend to ignore it.
I published two long posts on this blog to show the importance of these frontline workers (in French) in companies and the fact that digital solutions built for white-collar workers are absolutely not adapted to the expectations of frontline workers (in French).
Some key figures on this digital divide:
Frontline workers represent 80% of the world's workforce, compared to 20% for white-collar workers.
The percentages of investment in digital tools are reversed: 20% for frontline workers, 80% for white collar workers.
1%, yes, you read that right, only 1% of investments made by VCs, Venture Capitalists, go to companies that offer solutions for frontline workers.
I have summarized the situation in the table below:

The ratio of digital investments between field teams and white collar workers is 1 to 16. For every €1 invested for a field person, €16 is invested for a white collar worker.
The ratio of VC investments between frontline worker and white collar solutions is 1 to 400!

All of these figures clearly show that this organizational digital divide is, by far, the largest of the four divides studied.
Digital expectations of frontline workers
An exciting study published in 2021 by Emergence takes stock of what field teams expect from their digital tools.
I have grouped seven of the key findings from this study in this table, numbered 1 through 7 for ease of reading.
70% of frontline workers want more digital technologies.
Faced with the refusal of companies to equip them, more than half of field teams, 56%, choose to use their personal tools for professional purposes. This is disastrous for security and encourages the development of a shadow IT!
60% of frontline workers are not satisfied with the situation and think that it can be improved. What are you waiting for to meet this expectation?
The field teams think that they too are entitled to quality software. Doesn't that make sense?
During the COVID-19 pandemic, 65% of frontline workers say that companies did not make the effort to invest in additional digital tools. Lots of words to encourage them, congratulate them, but no money to invest!
78% of frontline workers say that the digital solutions offered will be an important element when choosing a job. The "big replacement" is expected to accelerate this movement.
Finally, and most importantly for me, the top three reasons why field teams are not more equipped with digital solutions are:

Their lack of knowledge of the digital tools that exist for their jobs. A work of sensitization is necessary, but easy.
Budget constraints: shame on you, leaders.
The lack of understanding by white-collar workers at headquarters of the reality in the field and how digital solutions could help them. This is the case in the majority of large companies: headquarters employees never go to the field!
It is likely that the results of this study are also consistent with what is happening in your company.
To all decision makers, I ask this simple question:
Managers, CIOs, plant managers, trade union leaders, how dare you allow this digital divide to persist, under your eyes, in your companies?
It is urgent, and possible, to act so that this organizational digital divide is reduced in your company, and from April 2022.
How to bridge this organizational digital divide
As I explained in the previous lines, the ratio between the investments made by companies for white collar workers and field teams is 16 to 1.
The priority is to rebalance, to some extent, the investments in favor of frontline workers
To do this, both populations must be addressed at the same time:
Stop pampering the spoiled children in your offices, managers, executives, employees who dare to complain when they don't have the latest smartphone, a light and powerful PC, high-end software… A little "digital frugality" for white-collar workers for the next two years will do them good.
Invest immediately to equip your frontline workers with essential, universal and indispensable digital tools.
In the 1990s, companies invested heavily in personal computer workstations and universal office software tools for white-collar workers. These tools, word processing, spreadsheet, email and electronic agenda… were the same, whatever the sector of activity or the size of the companies. These investments, primarily around Windows and Office, were at the origin of Microsoft's success.
In 2022, the same approach can be applied to frontline workers.
With which digital tools? The field teams also need an access object and adapted software.
Access object
The personal computer is absolutely not adapted to the needs of frontline workers. In most cases, the smartphone is the best choice. This smartphone can sometimes be replaced by a tablet.
The big winner is Android:
Wide choice of suppliers
Reasonable prices, starting at 200 € for professional smartphones
The possibility, if necessary, to choose "rugged" smartphones, with removable batteries and reinforced protections against shocks and water. The Samsung Galaxy Xcover Pro is a good example of a ruggedized smartphone at reasonable cost
In a few specific cases, such as the luxury industry, companies will choose an Apple iOS smartphone for in-store field teams.
The second question to ask is related to the possible sharing of a smartphone for personal and professional use:
COPE mode (Company Owned, Personally Enabled): the smartphone is provided by the company and it allows the employee to use it for personal purposes
COBO mode (Company Owned, Business Only): the smartphone is provided by the company for business use only
BYOD mode (Bring Your Own Device): the company authorizes the employee to use his personal smartphone for professional purposes
In France, the COBO mode is used in most cases. The company can equip the smartphone with EMM security and management software and the field employee prefers to have a separate personal smartphone.
Universal software for frontline workers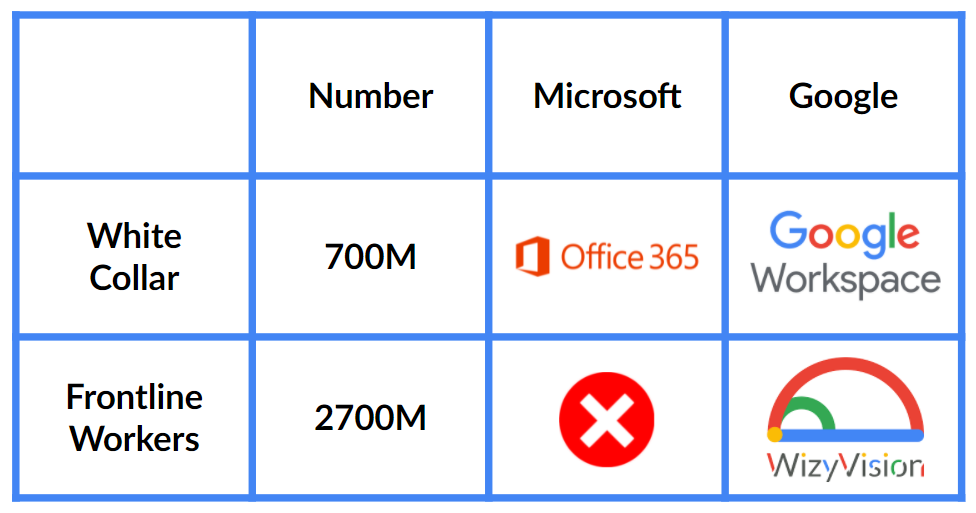 In 2018, I noticed that there were no front-end solutions for field teams. Like all entrepreneurs when they discover a market with very high potential, we developed with Laurent Gasser the SaaS solution WizyVision, which "Makes photos speak for field teams".
This is, to my knowledge, a world first: a complete software platform that addresses the basic universal needs of all field teams, regardless of business or company size.
Anyone who can take a picture with a smartphone can use WizyVision, immediately, with zero training.
Let me come back to the second digital divide, the human one. By putting photography at the heart of the approach, WizyVision allows 100% of the frontline workers to enter the digital world, including illiterate people. There are many of them in the world, including in France. I am very proud of this result.
I am willing to take the following bet with you:
There is not a single person in your company who cannot find a high value-added use for him/her and for your company, using the "Smartphone + WizyVision" duo.
What are the budgets for equipping frontline workers?
Let's assume that the first barrier has fallen: executives accept the idea that there is an urgent need to bridge the digital divide that exists in their companies between white-collar workers and frontline workers.
There is a second barrier to overcome: how much will it cost my company?
The calculation I am proposing is based on reasonable assumptions for most companies.
Access object. A smartphone with its EMM security and management software: monthly cost in the range of 10 € to 20 € per month. The main difference is the possible subscription to a mobile network. If the frontline worker stay in a company building, factory or warehouse, WiFi may be sufficient.
WizyVision solution. Expect to pay between €5 and €10 per month, depending on the functionality required.
Full monthly cost: between 15 € and 30 € per month. In France, this corresponds to 1 hour or 2 hours of salary for an employee paid at the SMIC.
The question of the profitability of frontline workers' equipment must be dealt with on a case-by-case basis, according to the different businesses.
Just answer the simple question: does the use of this tandem "Smartphone + WizyVision" save at least 1 or 2 hours per month for each employee?
I have a side question for you: how many leaders make this type of calculation for… white collar workers?
This organizational digital bill will really be settled the day companies understand that a smartphone for field teams is as essential as a personal computer for white-collar workers.
You decide… when.
Summary: these digital divides can add up
These four digital, technical, human, financial and organizational fractures cannot be studied independently of each other.
People over 70 years old, with little education, are often those with the lowest income. When they live in areas where fixed or mobile Internet coverage is poor, they cannot afford to buy a satellite dish. These digital divides will continue to exist in consumer digital use.
In companies, the situation is simpler:
The technical divide has been bridged: they are able to offer broadband network solutions in all workplaces, offices, factories or warehouses.
The human digital divide does not exist; all employees are able to take pictures with a smartphone.
The financial divide is no longer an issue: getting all field employees to save 1 to 2 hours per month is anything but "mission impossible".
One challenge remains, and it is a big one: the organizational divide.
It is becoming urgent for companies to immediately equip all employees of field teams, and I mean all, with modern digital tools, a smartphone and adapted software.