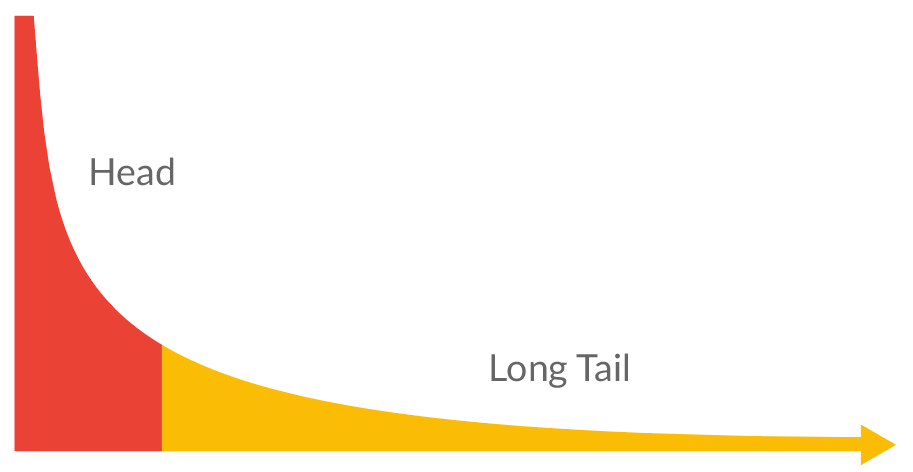 The Long Tail is a statistical distribution in which a small part of the contents, grouped in the "head" represents a large part of the distribution, the rest being distributed in the long tail.
This Wikipedia article is a good introduction to the topic.
I came up with the idea of analyzing the distribution of digital processes and applications used in companies based on this long tail approach.
Important: I do not deal here with consumer applications.
This blog post is the result of my initial thoughts on the subject.
Your comments and analysis are welcome.
The principles of the long tail
(Readers who are familiar with the concept of the long tail can skip to the next paragraph).
In 2004, Chris Andersen published a long article on long tail, considered to be the foundation of the application of this analysis to business activities.
Due to the success of this article, Chris Andersen published a book in 2006 that presents the long tail in more detail.
It is in the field of e-commerce that the long tail approach has shown its relevance most clearly.
The example of Amazon and the sale of books is an emblematic case:
The largest physical bookstores can present their visitors with up to 15,000 books on the shelf. The cost of stocking low demand books would be prohibitive.
Conversely, listing millions of books on a marketplace like Amazon represents a very low marginal cost. It is often small, specialized publishers who sell on Amazon, who enable Amazon:

To have no storage costs for the works.
To take a commission on the sale and transport of each book.
As this diagram shows, the long tail of books represents for Amazon more than 50% of its sales.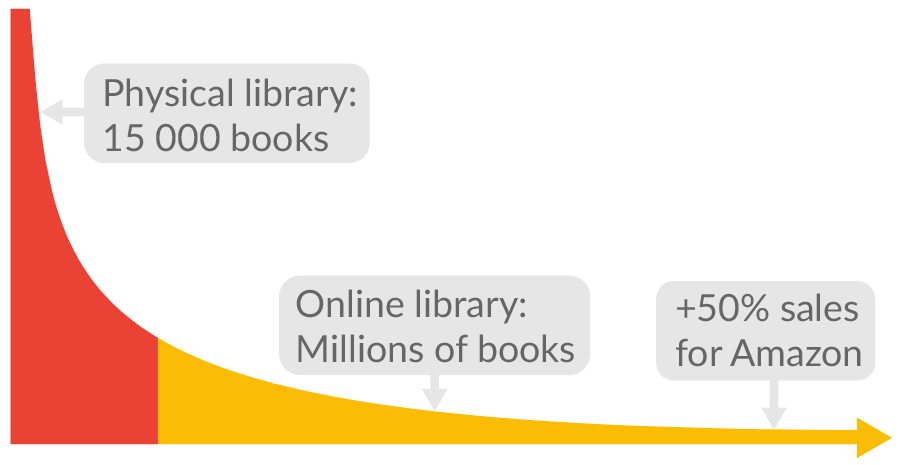 Business process analysis with the long tail
In this post, I propose to answer the question: do the digital processes and applications used in companies follow a long tail distribution?
Note: all IT applications are responses to the automation of business processes. I will use the two words applications and processes interchangeably.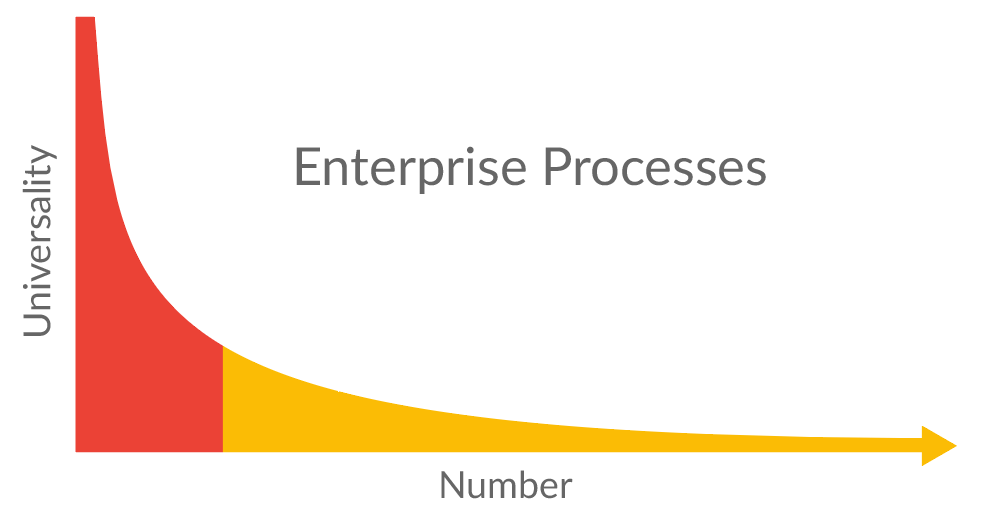 For this hypothesis to be verified, it is necessary that on the long tail distribution of business processes that:
A small number of processes and applications are dominant, the "best-sellers".
A very large number of applications correspond to more specialized, less frequent processes.
Long tail: universal applications
What are the most common universal applications used in companies today, regardless of their size or industry? They are the office applications dominated by the duopoly Google Workspace and Microsoft Office 365. There are still a few backward-looking companies that continue to use "on premise" office tools, but the majority of companies have now switched to public cloud solutions.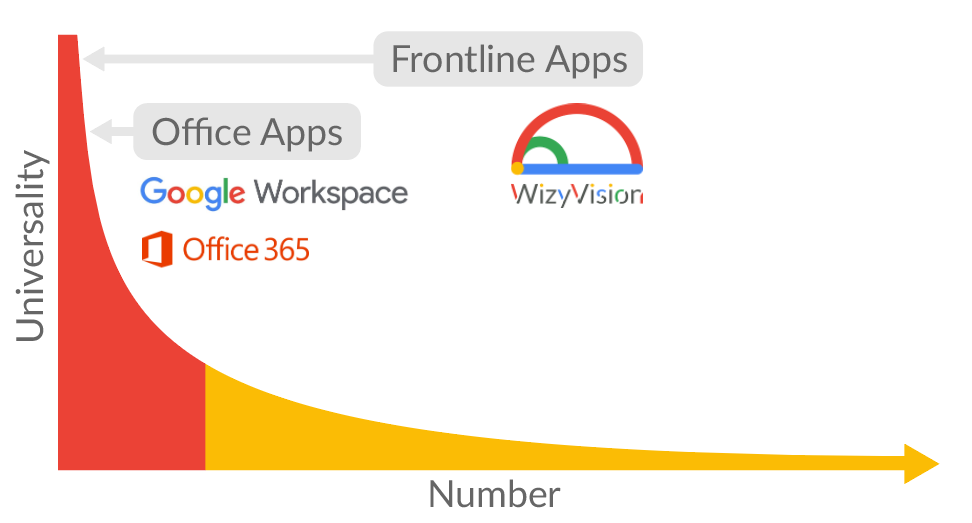 Workspace and Office 365 are the two best-selling business applications by far.
What's next? A new "best-seller" is coming in 2022. These are universal applications for Frontline Workers (FLW).
This is a topic I've discussed many times in this blog:
This post presents the characteristics of a frontline application.
This second post discusses the management dimensions and the measures to be taken to reduce the digital divide between white collar and FLWs.
Worldwide, there are 80% of people in field teams, around 2,700 million people, and "only" 800 million white collar workers.
With WizyVision, the first frontline application available on the world market and developed by the company Wizy.io, of which I am one of the co-founders, we have the ambition to equip all FLWs with a universal solution. Anyone who knows how to take a picture with a smartphone can use WizyVision, "out of the box".
By 2030, the number of users of frontline solutions could be greater than the number of users of office tools!
Frontline + Office = a very small number of applications, which will remain the perennial best-sellers of the digital world, for many years to come.
Long tail: SaaS applications support and PaaS
The second dominant family is that of applications for structured processes serving white-collar workers in finance, human resources, marketing or sales.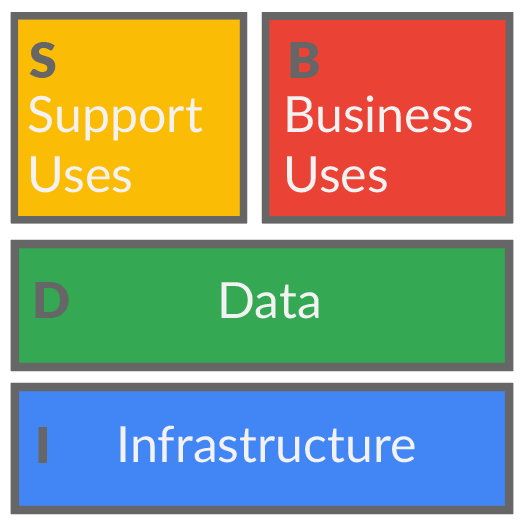 For these S, "support" processes, in the sense of the B I S D model I proposed in 2019, the dominant answers today are SaaS solutions, Software as a Service.
As this chart shows, leaders have quickly emerged; between 20 and 50 SaaS solutions share the bulk of the general structured application market, such as:
Salesforce for business use.
Workday for Human Resources and Finance.
Coupa for shopping.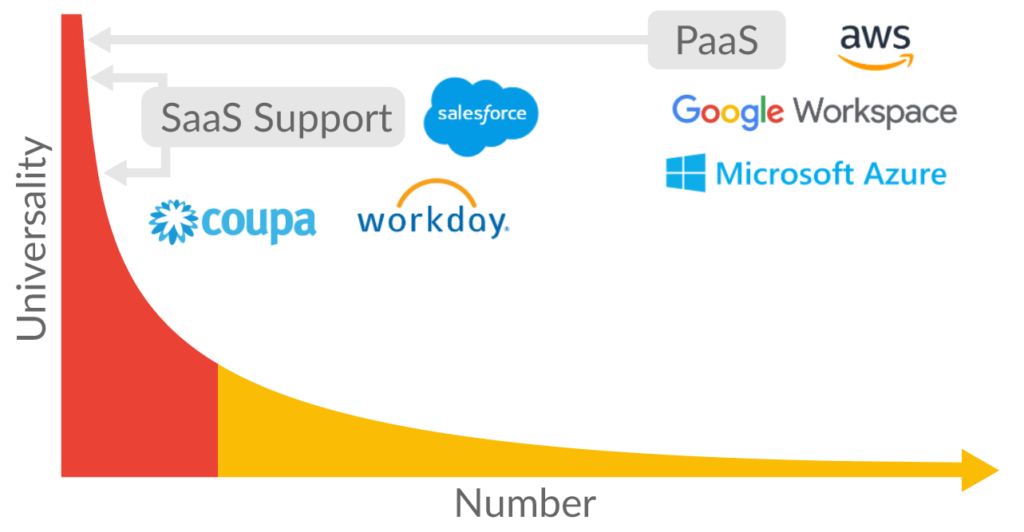 On the same graph, I put the PaaS tools, Platform as a Service. They enable internal teams of professional developers to build custom applications for specific business processes, for greater competitiveness. These are the "B" uses, the core business, of the BISD model. In this area too, the number of solutions is very limited: the dominant PaaS solutions are offered by the three industrial giants IaaS, Infrastructure as a Service, AWS, Google's GCP and Microsoft's Azure.
We remain in a "head" logic of the long tail: a very small number of solutions dominate this market.
Long tail: specialized SaaS applications
The rest of the "head" part of the long tail distribution is occupied by SaaS applications that provide answers for more specialized processes.
Dans ce graphique, j'ai illustré cette offre très large par quelques noms:
Survey Monkey for surveys.
Eventbrite for event organization.
Mailchimp for mailing operations.
Kyriba for cash management.
Diligent for board of directors management.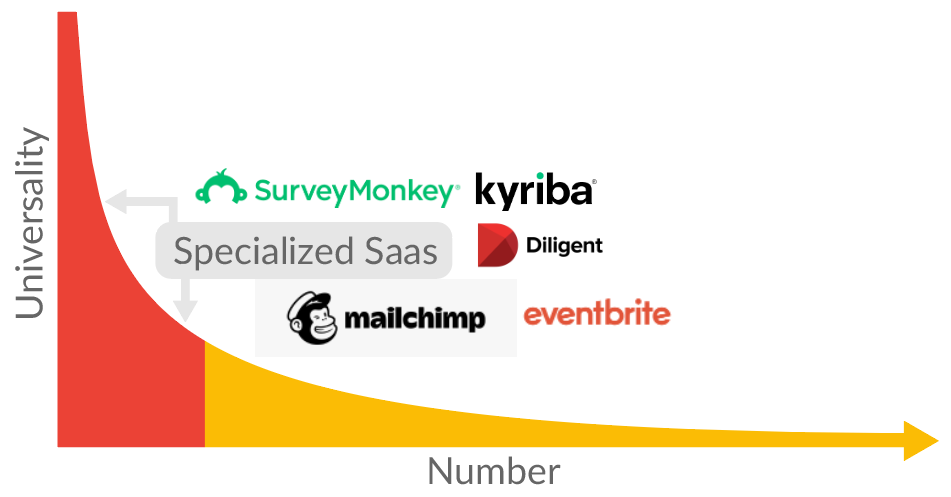 It has become impossible to count the number of SaaS applications for these specialized processes available on the market. This number exceeds 50,000 and increases by several thousand every year.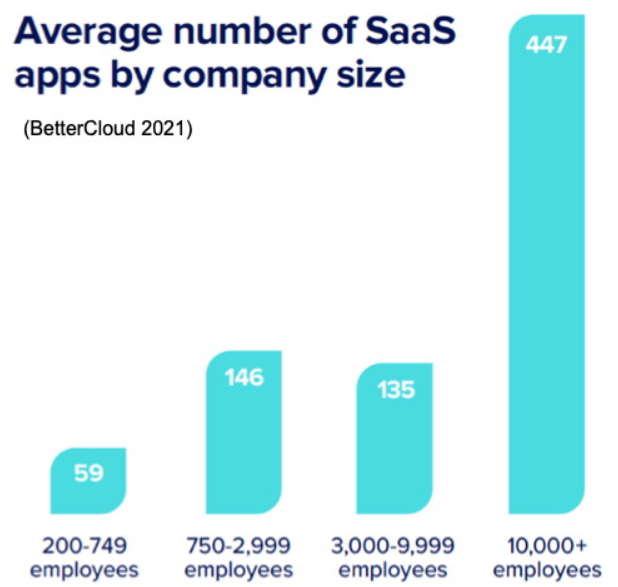 This growth is reflected in the number of SaaS solutions deployed in enterprises. BetterCloud publishes an annual report on the state of the SaaS market. As this chart from their study shows, by 2021 companies with over 10,000 employees were using over 400 different SaaS solutions.
The following graph shows that the SaaS offering now largely covers the entire "head" of the long tail distribution of digital processes in companies. It is also encroaching a bit on the "long tail" part.
This cloud of logos of "Marketing technology" solutions, totally unreadable, includes 8,000 different publishers!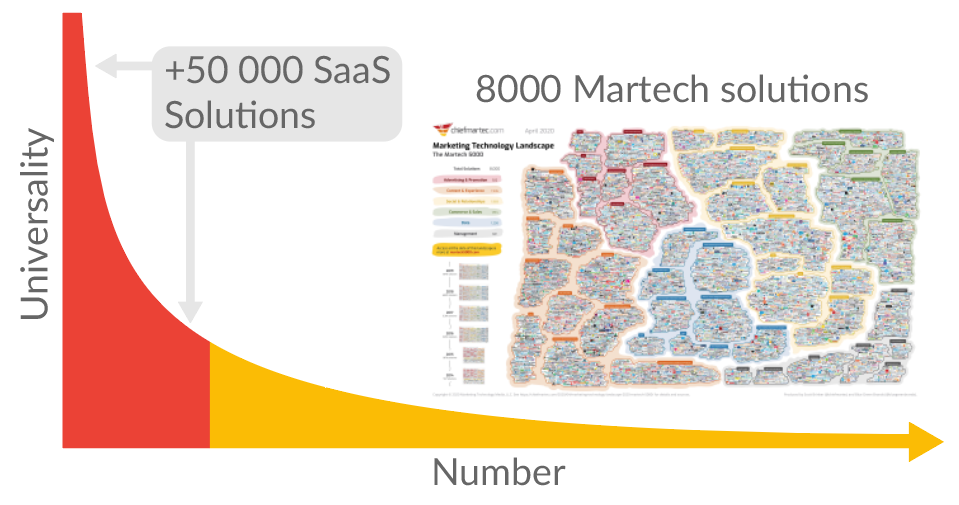 ChiefMartec, which publishes this document, listed "only" 1,000 offers in 2014!
Long tail: Low Code and No Code solutions (LCNC)
As we have just seen, all offers for digital processes in the "head" are covered by the solutions Office, Frontique, SaaS and PaaS.
For the thousands of highly specialized lightweight processes, which correspond to the "long tail" part, modern answers are called Low Code and No Code (LCNC).
On this diagram, I took the image of transportation to illustrate the differences between the three development modes, No Code, Low Code and Full Code: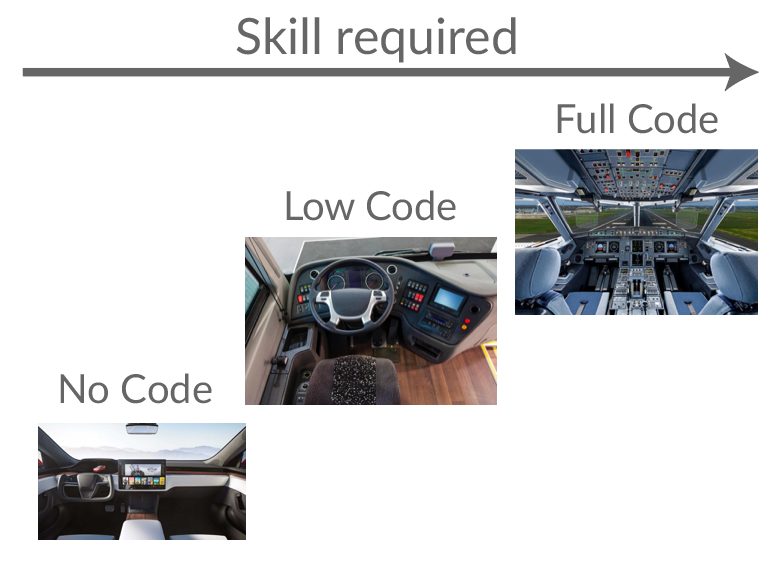 No Code: the majority of people are able to get a driver's license. In the same way, the majority of the employees of a company is able to learn how to use the No Code tools.
Low Code: It already takes more skills to master a truck or a bus. In companies, anyone who could build "Excel Macros" can acquire the skills needed to master Low Code tools.
Full Code: it takes years of training to learn how to fly a plane. Professional developers need years of training to use PaaS tools effectively.
LCNC solution offerings have made dramatic progress over the past 5 years. All modern LCNC tools are built in public clouds.
Low code solutions are primarily used for processes on the left side of the long tail, which require medium complexity developments.
No Code solutions are used for the right part of the long tail, for processes that are simpler to model.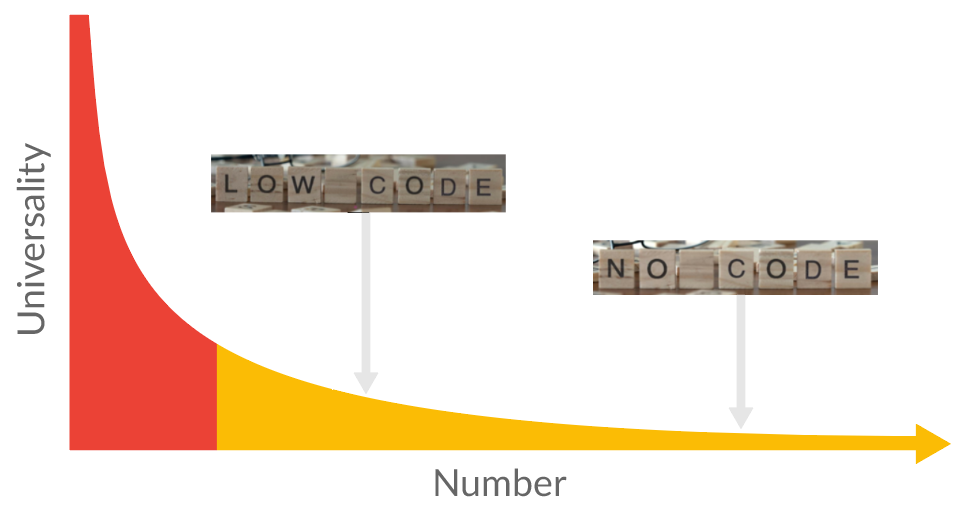 The boundary between Low Code and No Code solutions is very porous: software vendors often prefer to position their solutions in the Low Code family, as this opens a larger market for them.
Let's take as an example some excellent and widespread tools:
Power BI from Microsoft and Data Studio from Google.
AppSheet from Google and Power Apps from Microsoft.
Airtable, which for me is one of the most powerful solutions on the market.
Which of these tools are Low Code, which are No Code? If you ask around, you'll get both types of answers.
LCNC tools allow "citizen developers" to build themselves lightweight applications to quickly improve simple, but "irritating" processes today, those that cannot be automated in reasonable costs and time by Full Code developers.
In 2022, LCNC tools are still reserved for white-collar workers: to use them effectively, you need a laptop computer and the interfaces are text-oriented.
What LCNC tools can we propose for simple processes, specific to field teams?
Long tail: No Code solutions for field teams
At WizyVision, we have been confronted with the expectations of FLWs. Digital is never their core business, but they all need very simple digital solutions to accelerate and improve their field activities.
I don't believe in the relevance of Low Code solutions for field teams.
However, they are very comfortable with No Code tools. To meet this demand, WizyVision has developed two No Code tools for FLWs:
Frontspace: a No Code generator of simple processes, which takes as a starting point the photos, like all the solutions proposed by WizyVision.
ML Studio: a Machine Learning tool in No Code. It allows field teams to drive themselves the ML models they need to recognize the specific business objects they are working on.
A long tail analysis allows me to explain the position of the WizyVision platform at the service of FLWs.
WizyVision offers digital solutions for both ends of the long tail:
A Frontline tool, a "corporate photo" mobile application for Android and iOS, usable by 100% of FLWs, "out of the box", for simple and universal uses.
Two No Code tools, Frontspace and ML Studio, which allow teams in the field, in a "bottom up" approach, to build themselves dozens of simple digital applications corresponding to simple daily processes.
WizyVision completes its offering with open APIs for 100% of the platform's features. These APIs allow communication with all other desktop, SaaS, PaaS, No Code and Low Code applications used by white collar workers to avoid creating another digital silo.
Summary
At the beginning of this post, I asked the question:
"Do the digital processes used in businesses follow a long tail type distribution?"
The answer is clear: yes!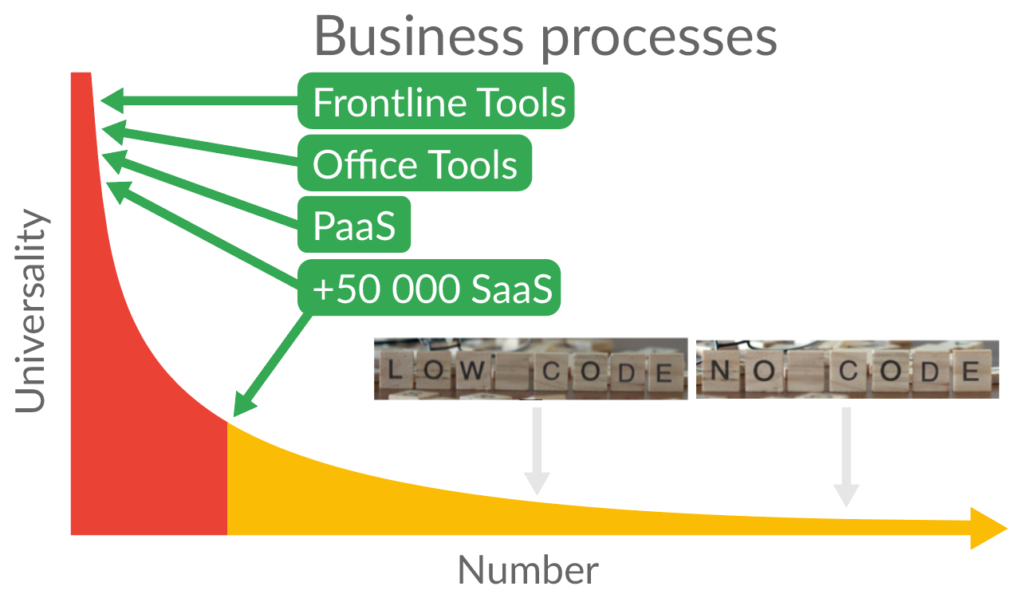 I hope, through this innovative analysis of business processes, to help DSINs, Chief Information and Digital Officers, to better understand how the many solution offerings available in 2022 can be combined to efficiently, quickly and cost-effectively meet the wide variety of expectations of their various customers, expectations that are spread over a long tail curve.